Recipes
How to peel pearl onions easily.
Slice off the root ends and drop into boiling water for less than a minute. Drain and rinse with cold water. Pinch the stem end of each, and a peeled onion will pop out. When they're in the skillet, shake the onions frequently for even browning.
exam2pass.com
exam2pass DES-6321
https://www.real4exam.com/CLO-001.html
https://www.real4exam.com/CS0-001.html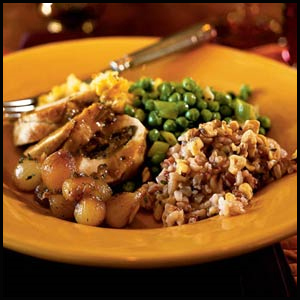 Caramelized White Pearl Onions

Yield: 4 servings (serving size: 1/4 cup)
Ingredients
• 1 teaspoon olive oil
• 1 teaspoon butter
• 1 (10-ounce) package pearl onions
• 1/3 cup water
• 1 teaspoon sugar
• 1 tablespoon chopped fresh thyme
• 2 tablespoons dry white wine
• 1/4 teaspoon salt
• 1/8 teaspoon black pepper
How to make it
Heat oil in a medium nonstick skillet over medium heat. Melt butter in pan. Add onions, and cook 5 minutes or until lightly browned, shaking pan frequently. Add water and sugar, and bring to a boil. Cover, reduce heat, and simmer 8 minutes. Uncover and cook 2 minutes or until liquid evaporates. Stir in thyme and remaining ingredients; cook 1 minute. For morerecipes go to; www.myrecipes.com
_________________________________________________________________________________________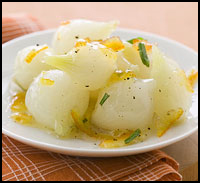 Gold Pearl Onion Recipe

Shopping list
• 1 Tbsp. cooking oil shopping list
• 1 clove garlic, thinly sliced shopping list
• 1/2 cup orange marmalade shopping list
• 1/2 tsp. salt shopping list
• 1/8 tsp. ground black pepper shopping list
• 1 Tbsp. snipped fresh chives or parsley shopping list
Note shopping list
• If desired, omit fresh onions and Step 1; substitute one 16-ounce package frozen small whole onions and cook according to package directions until tender. Drain well and set aside. Proceed with Step 2. Serve with a slotted spoon. shopping list
How to make it
* 1. In a medium saucepan cook onions in enough boiling water to cover for 1 minute; drain well. Cool onions slightly and peel. In the same saucepan cook peeled onions, covered, in a small amount of boiling lightly salted water for 10 minutes or until tender; drain well and set aside.
* 2. In a large skillet heat oil over medium-high heat. Add garlic; cook and stir about 30 seconds or until golden. Stir in marmalade until melted. Stir in onions, salt, and pepper; cook and stir for 3 to 5 minutes or until marmalade is slightly thickened and coats onions. Stir in chives.
* Makes 4 to 6 servings, For more information go to; www.grouprecipes.com/pearl-onion
____________________________________________________________________________________________


Red Pearl Onion Recipe

Yield: Makes 8 servings (abot 4 cups)
Active time: 1 1/2 hr
total time: 2 1/2 hr
We know they're a pain to peel, but we promise that these jewellike pearl onions are worth it. Cooked until just tender, they make a dazzling disk.
Ingredients
• 2 1/2 lb fresh red pearl onions
• 3/4 cup apple juice
• 3/4 cup reduced-sodium chicken broth
• 2 tablespoons unsalted butter
• 2 (4-inch) sprigs fresh thyme
• 1/2 teaspoon salt
• 1/4 teaspoon black pepper
• Garnish: fresh thyme leaves for sprinkling
How to make it
Blanch pearl onions in a 6- to 8-quart pot of boiling water 1 minute, then drain in a colander. When onions are cool enough to handle, peel.
Cook onions with remaining ingredients, covered, in a 12-inch heavy skillet over moderately low heat, shaking pan occasionally, until onions are tender and glazed and most of liquid is evaporated, about 45 minutes. Discard thyme.
220-1001 dumps
70-779 exam dumpss
Cooks' notes: · Onions can be blanched and peeled (but not cooked) 2 days ahead and chilled, covered.
Onions can be cooked 1 day ahead and cooled completely, uncovered, then chilled, covered. Reheat over low heat, about 10 minutes, before serving.